Managing Assets of a Hospital
Krzysztof Görlich D.Sc.
A-Co. sp. z o.o.
A modern hospital in Poland makes use of various information systems to support its bookkeeping, HR, financing… Use of sophisticated IT systems is ubiquitous as regards medical functions and patient record. Digitalisation of Polish hospitals gains momentum, especially since the HL7 became a commonly accepted standard.
However, it seems that the information needs of asset management, maintenance of buildings, infrastructure and medical equipment have been neglected. In this regard there is a visible progress on the supply side – there is offer from the IT industry, but demand side – effort to identify and implement CAFM/CMMS support is still absent. In spite of the fact that the asset management may clearly reveal reserves and unrealized benefits.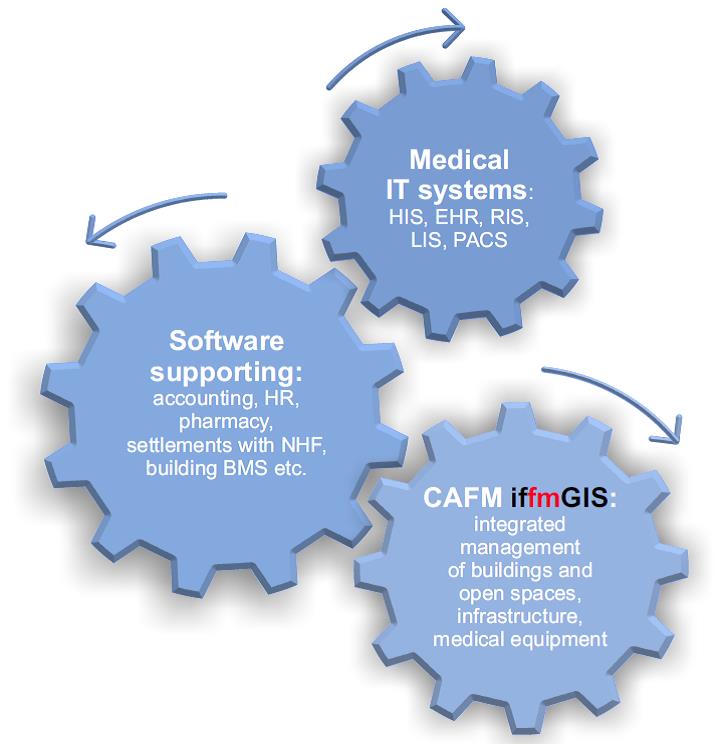 Growing complication of technical infrastructure, enormous amount of demanding medical equipment with increasing servicing needs and related maintenance cost, as well as growing user expectations result in pressure on administration and owners of hospitals. A new, higher level of digital support is needed.
What are these 'higher level of digital support' solutions? These are CAFM-type IT systems based on CAD-based GIS-type data-base solutions built to manage complete processes.
One can demonstrate use of CAFM for hospitals on iffmGIS®. In iffmGIS® one may for example plan and run processes of use of equipment, i.e. document installation, follow warranty and guarantee agreements, plan preventive maintenance, track failure tickets, record service intervention and settle accounts, collect data on frequency of failure and information on depreciation or cost of operation of a given piece of equipment.
In the course of running processes using the iffmGIS® system one builds complete data base containing historical information as well as data up-to-date in real time. We receive answers to such questions as: How often the equipment underwent break-down? How much maintenance (preventive and reactive) did cost? Is it better (cheaper) to repair or replace? When one needs cash to do it? Is product of a Company A cheaper in maintenance than that of a Company B? Do all the employees working with medical equipment have adequate and valid licenses? Etc.
Such operations on data bases (queries of the above type) are possible only within integrated information systems such as iffmGIS®. It is not possible to automatically produce such reports if the processes are not computerized, but also when they are supported by separate, non-integrated software.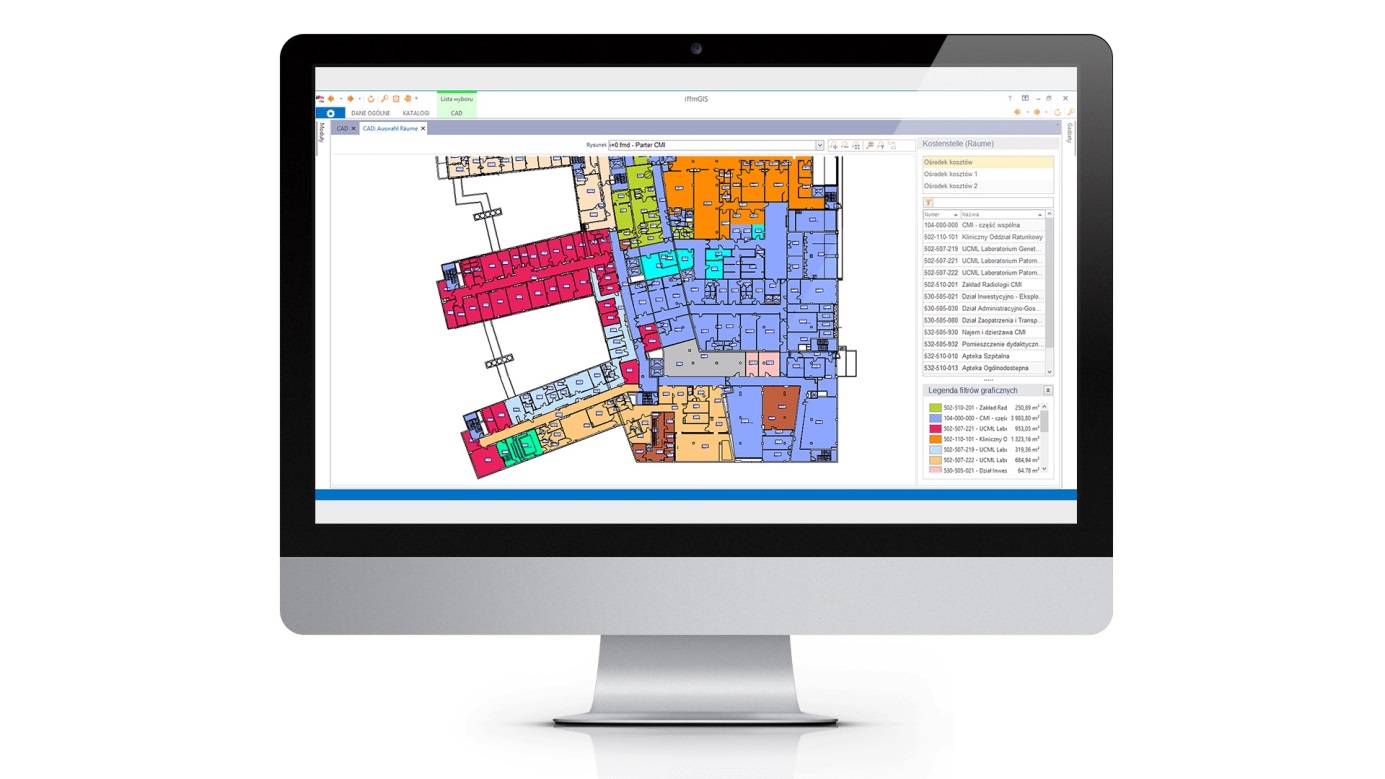 Arkadiusz Lendzion, deputy director of the University Clinical Centre in Gdańsk:
"Integrated CAFM system for the management of real properties and medical equipment is a novelty on Polish market. This is why we appreciate cooperation with A-Co. from Kraków who implemented iffmGIS® in our hospital. Their solution, tested and proven in the most prestigious clinical centres in Germany (including Charite in Berlin – c. 45 thousand rooms) has been fully localised and adjusted to Polish legal and operational requirements. After extensive tests the system supports daily tasks of our several departments when maintaining hospital buildings and their infrastructure and equipment. iffmGIS® helped us a lot when commissioning our new building of Non-Invasive Medicine where we had to take-over from the contractor and equip a dozen or so thousands of rooms and pieces of equipment. Already today we see advantages and benefits from better and easier supervision of use of space, infrastructure and medical equipment. Further economic effects are expected from the use of the signage module, mobile on-site inventory taking module, as well as management of maintenance in field using smartphone and/or tablets."